German Semmelknödel recipe - Bread dumplings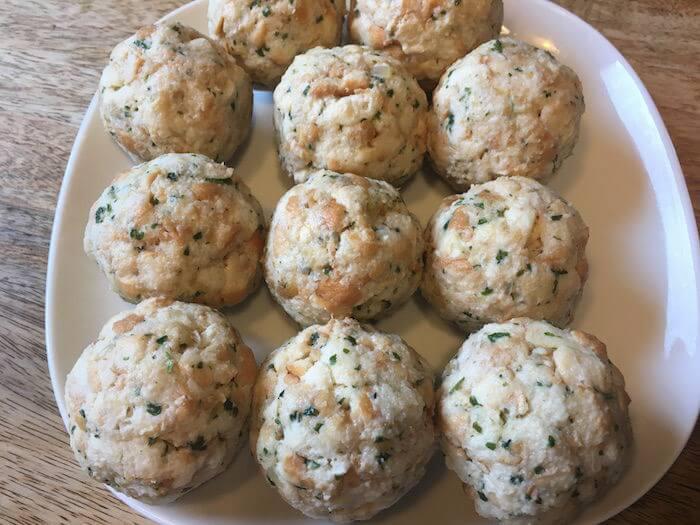 German Semmelknödel recipe - Bread dumplings © issgesund
Semmelknödel and Germany simply belong together. The farmers already had "dumpling days" ages ago, on which, for example, stale bread was processed. In Hocheppan in South Tyrol is the first pictorial representation of dumplings from the 12th century "The good dumplings and the use Gitschen". In a Tyrolean cookbook from the 16th century, one can find one of the first dumpling recipes recorded in writing. Today, a roast pork, smoked meat, venison stew or a mushroom sauce would be unimaginable without bread dumplings!
Ingredients for dumplings
9

ounces dumpling bread or hard white crusty bread

3

tablespoon butter

2

eggs

1

cup milk

1/2

cup flour handy

1/2

cup onions finely diced
parsley green chopped
a pinch salt
Preparation
Put dumpling bread in a bowl
Heat butter in a frying pan
Roast the onion in it
Add the parsley at the end
Mix the parsley and onion mixture with the dumpling bread
Whisk milk, eggs and salt, pour over the dumpling bread and mix
Let it stand for a while, loosening it in between
Fold in the flour
Form dumplings with wet hands
Bring a pot of lightly salted water to the boil
Put the dumplings in and cook slowly for 12 minutes
Recipe notes
A freshly cooked dumpling is fluffy, fluffy and of course always tastes best. But if you would like to pre-cook several, that is of course also possible. You can freeze the dumplings cooked. After thawing, let them steep in hot water or fry them cut in a pan (dumplings with egg).

How do you like this article?
Your opinion matters to us! 8 ratings has this post already received Submit rating
---
Opinions
05.01.2022 16:39
5 Sterne
28.10.2021 11:29
Super erklärt,danke!
10.05.2021 21:02
Bestes Rezept ever! Dankeschön
18.03.2021 10:24
Diese Knödeln gelingen immer
---
More interesting articles